[GIS Book/PDF] GIS: An Introduction to Mapping Technologies
Description
Over the past few decades the world has been organized through the growth and integration of geographic information systems (GIS) across public and private sector industries, agencies, and organizations. This has happened in a technological context that includes the widespread deployment of multiple digital mobile technologies, digital wireless communication networks, positioning, navigation and mapping services, and cloud-based computing, spawning new ways of imagining, creating, and consuming geospatial information and analytics.GIS: An Introduction to Mapping Technologies is written with the detached voices of practitioner scholars who draw on a diverse set of experiences and education, with a shared view of GIS that is grounded in the analysis of scale-diverse contexts emphasizing cities and their social and environmental geographies. GIS is presented as a critical toolset that allows analysts to focus on urban social and environmental sustainability.The book opens with chapters that explore foundational techniques of mapping, data acquisition and field data collection using GNSS, georeferencing, spatial analysis, thematic mapping, and data models. It explores web GIS and open source GIS making geospatial technology available to many who would not be able to access it otherwise. Also, the book covers in depth the integration of remote sensing into GIS, Health GIS, Digital Humanities GIS, and the increased use of GIS in diverse types of organizations. Active learning is emphasized with ArcGIS Desktop lab activities integrated into most of the chapters.Written by experienced authors from the Department of Geography at DePaul University in Chicago, this textbook is a great introduction to GIS for a diverse range of undergraduates and graduate students, and professionals who are concerned with urbanization, economic justice, and environmental sustainability.
Book Info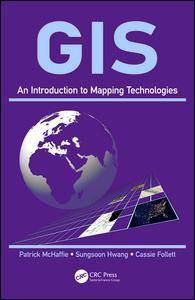 Author(s): Patrick McHaffie (Author); Sungsoon Hwang (Author); Cassie Follett (Author)
Publisher: CRC Press, Year: 2018
ISBN: 9781498740234,9781498740258,9781498740241,9780429441028,9780429804779,9780429804762,9780429804786,9780367570903
Join Group
Due to copyright or some other issues, the resources you currently see may not be available, for more information, such as purchase, lease, second-hand transfer or other method, you can join our Telegram group, many other GIS tips would be shared here.
Telegram: Join GIS Hub Group
comments powered by

Disqus