[GIS Book/PDF] GIS and Remote Sensing Applications in Biogeography and Ecology
Description
In recent years, the conservation of tropical forests has received worldwide publicity whereas effective forest management, particularly for timber extraction, has attracted little attention and gained some notoriety. The overall aim of the present paper was to examine how environmental micro-variation in the Chiquibul Forest Reserve of Belize can influence species distribution and thereby inform management strategy. The paper deals first with the background to forest management in Belize, then considers the methodology used in the present study and fin~~ly assesses the preliminary results. The specific objectives are: (1) to assess the effects of changing scale on the variability of selected individual soil properties in forest plots within the same vegetation class; and (2) to examine the variation in soil properties and tree species distribution, and to integrate environmental and ecological data over a range of scales. BACKGROUND Whereas the global and regional distribution of tropical forests is broadly governed by climatic and altitudinal variation, individual forest tracts need to consider a range of other, locally important factors to explain species distribution and change. With very high species diversity, tropical forests present a major challenge in the attempt to unravel controlling factors in distribution and growth (Swaine et aI. 1987). Research that attempts to explain diversity has looked at species distribution according to a range of factors, with a general recognition that soil fertility plays a significant if ill­ defined role (Swaine 1996).
Book Info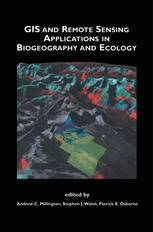 Author(s): Andrew C. Millington, Stephen J. Walsh (auth.), Andrew C. Millington, Stephen J. Walsh, Patrick E. Osborne (eds.)
Series: The Springer International Series in Engineering and Computer Science 626
Publisher: Springer US, Year: 2001
Join Group
Due to copyright or some other issues, the resources you currently see may not be available, for more information, such as purchase, lease, second-hand transfer or other method, you can join our Telegram group, many other GIS tips would be shared here.
Telegram: Join GIS Hub Group
comments powered by

Disqus