[GIS Book/PDF] Interfacing Geostatistics and GIS
Description
The present volume contains contributions of internationally renowned authors to the theme of interfacing between geostatistics, geoinformation systems and spatial data base management systems. Although some progress has been made toward interfacing, there is still only little overlap between the different communities. The present volume is intended to provide a bridge between specialists working in these areas. The volume first surveys new methodological developments in geostatistics, and then reports on applications in traditional areas of geo-and environmental sciences and novel applications such as traffic and entrepreneurship data modeling. Finally, successful approaches to the integration of different types of agricultural, biomedical and epidemiological information systems with GIS and spatial statistics software systems are documented. Book jacket. Author/co-author of six books Author of more than 70 scientific papers Reviewer for a number of international statistics journals Associate Editor of several statistics journals Elected Member of the International Statistical Institute (ISI).
Book Info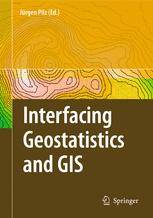 Author(s): Edzer J. Pebesma (auth.), Jürgen Pilz (eds.)
Publisher: Springer-Verlag Berlin Heidelberg, Year: 2009
ISBN: 9783540332350,9783540332367
Download
Join the group as followed to get more info.
Join Group
Due to copyright or some other issues, the resources you currently see may not be available, for more information, such as purchase, lease, second-hand transfer or other method, you can join our Telegram group, many other GIS tips would be shared here.
Telegram: Join GIS Hub Group
comments powered by

Disqus