[GIS Book/PDF] Real estate and GIS the application of mapping technologies
Description
Real Estate and GIS focuses on the application of geographic information systems (GIS) and mapping technologies in the expanding property and real estate discipline. Whilst a thorough understanding of location is understood to be fundamental to the property discipline, real estate professionals and students have yet to harness the full potential of spatial analysis and mapping in their work. This book demonstrates the crucial role that technological advances can play in collecting, organising and analysing large volumes of real estate data in order to improve decision-making.
International case studies, chapter summaries and discussion questions make this book the perfect textbook for property and applied GIS courses. Property and real estate professionals including surveyors, valuers, property developers, urban economists and financial analysts will also find this book an invaluable guide to the understanding and application of GIS technology within a real estate industry context.
Book Info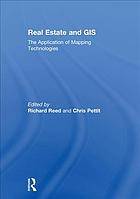 Author(s): Pettit, Christopher; Reed, Richard G
Year: 2019
ISBN: 978-1-138-18797-9,978-1-138-18798-6,978-1-315-64278-9,1138187976,1138187984,1315642786
Download
Join the group as followed to get more info.
Join Group
Due to copyright or some other issues, the resources you currently see may not be available, for more information, such as purchase, lease, second-hand transfer or other method, you can join our Telegram group, many other GIS tips would be shared here.
Telegram: Join GIS Hub Group
comments powered by

Disqus