[GIS Book/PDF] Administering ArcGIS for Server: Installing and configuring ArcGIS for Server to publish, optimize, and secure GIS services
Description
ArcGIS for Server is a new technology that has been developed to bring geographically-enabled information from multiple sources into one single platform and make it available for sharing services. Server supports many types of services, and the beauty of this technology is that it has an edge over other products, as the source of information can be directly plugged into Server without the need to change or migrate the existing infrastructure. Administering ArcGIS for Server teaches you the mechanics of ArcGIS for Server, equipping you with the skills to not only install and configure Server, but to do it efficiently to achieve effective results. You will also learn how to plan, analyze, design, and finally publish and consume GIS services from various platforms including mobile and tablets.
Book Info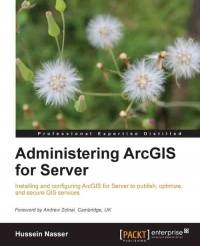 Author(s): Hussein Nasser
Publisher: Packt Publishing, Year: 2014
ISBN: 978-1-78217-736-4
Join Group
Due to copyright or some other issues, the resources you currently see may not be available, for more information, such as purchase, lease, second-hand transfer or other method, you can join our Telegram group, many other GIS tips would be shared here.
Telegram: Join GIS Hub Group
comments powered by

Disqus