[GIS Book/PDF] Dynamic and Mobile GIS: Investigating Changes in Space and Time
Description
With the widespread use of PDAs, wireless internet, Internet-based GIS, and 3G and 4G telecommunications, the technology supporting mobile GIS is rapidly gaining popularity and effectiveness. Dynamic and Mobile GIS: Investigating Changes in Space and Time addresses Web GIS, mobile GIS, and the modeling, processing, and representation of dynamic events, as well as current demands to update GIS representations.Providing a comprehensive overview of this emerging technology, this book highlights innovations, new ways of modeling both spatial objects and dynamic processes affecting them, and advances in visualization. Featuring contributions from established GIS workers, it begins with an introduction of extant technology and previews future developments. The book examines challenges to security and privacy and presents practical solutions to these problems while focusing on modeling approaches and exploring the need to display an appropriate level of information in a mobile environment. Concluding with a study of mobility, the book also contains practical examples of applications of mobile devices for disaster management and environmental monitoring.Dynamic and Mobile GIS: Investigating Changes in Space and Time offers detailed cases of successful applications and identifies the current cutting-edge aspects of mobile and dynamic GIS. The book also looks to the future, investigating important research directions and potential challenges.
Book Info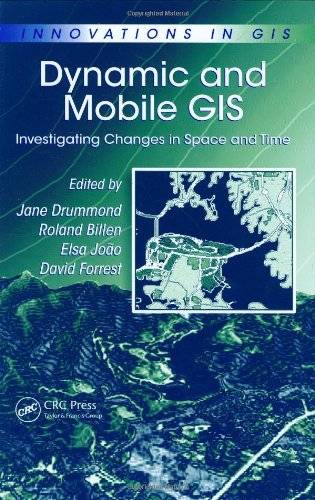 Author(s): Roland Billen, Elsa Joao, David Forrest
Series: Innovations in GIS
Publisher: CRC Press, Year: 2006
Join Group
Due to copyright or some other issues, the resources you currently see may not be available, for more information, such as purchase, lease, second-hand transfer or other method, you can join our Telegram group, many other GIS tips would be shared here.
Telegram: Join GIS Hub Group
comments powered by

Disqus