[GIS Book/PDF] GIS and Remote Sensing Techniques in Land- and Water-management
Description
Managing land and water is a complex affair. Decisions must be made constantly to allocate and use natural resources. Decision and action in any use of resources often have strong interactions and side-effects on others, therefore it is extremely important to monitor and forecast the impacts of the decisions very carefully. Reliable information and clear data manipulation procedures are compulsory for monitoring and forecasting. Remote Sensing has considerable potential to provide reliable information. A Geographic Information System is an easy tool for manipulating and analysing the data in a clear and fast way. This book describes in seven practical examples how GIS and Remote Sensing techniques are successfully applied in land and water management.
Book Info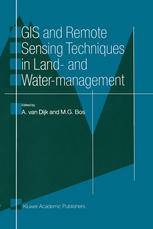 Author(s): Marinus G. Bos (auth.), A. van Dijk, M. G. Bos (eds.)
Publisher: Springer Netherlands, Year: 2001
ISBN: 978-94-010-6492-7,978-94-009-0005-9
Join Group
Due to copyright or some other issues, the resources you currently see may not be available, for more information, such as purchase, lease, second-hand transfer or other method, you can join our Telegram group, many other GIS tips would be shared here.
Telegram: Join GIS Hub Group
comments powered by

Disqus