[GIS Book/PDF] GIS-Based Automated Landform Classification in Zagros mountain (case study: Grain mountain)
Description
Опубликовано: Bulletin of Environment, Pharmacology and Life Sciences Bull. Env. Pharmacol. Life Sci. — 2014 — Vol 3 (3) February — рр. 20-32.The main objective of this study is to landform classification in Garin Mountain where located in Zagros mountain, Iran. In order to landform classification used Digital Elevation Models (DEMs) with 90 m resolution. In this study used semiautomated landform classification based on Topographic Position Index (TPI). By using TPI, the study area was classified into landform category. The input data for landform classification consist of: slope direction (Aspect), slope position, slope shape (planform curvature), topographic moisture index and stream power index. The classification results can be used in applications related to geology map of the study area. The result show that there are variety of landform in the study area and can used TPI for landform classification.
Book Info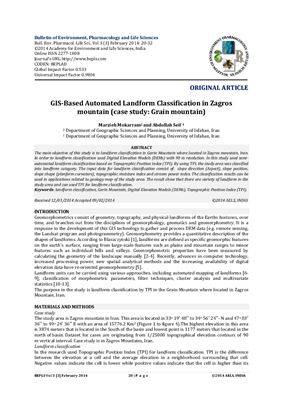 Author(s): Mokarram Marzieh, Seif Abdollah.
Search in WorldCat | Search in Goodreads | Search in AbeBooks | Search in Amazon.com
Join Group
Due to copyright or some other issues, the resources you currently see may not be available, for more information, such as purchase, lease, second-hand transfer or other method, you can join our Telegram group, many other GIS tips would be shared here.
Telegram: Join GIS Hub Group
comments powered by

Disqus