[GIS Book/CHM] Statistical Analysis With ArcView GIS
Description
Statistical analysis of geographic data has been greatly enhanced in recent years with the advent of Geographical Information Systems (GIS) software. Yet GIS users have struggles to synchronize their applications of spatial information with practical, quantitative statistics. ArcView, one of the most powerful GIS-compatible systems, has become the most popular software among geographers precisely because of its capacity for spatial-quantitative synthesis. Now geographers Jay Lee and David Wong have produced the first handbook for applied ArcView use, bringing the theoretical underpinnings of classical statistics into the earth science environment. Employing points, lines, and polygons to model real-world geographic forms, this easy-to-use resource provides geographers with a valuable bridge between theory and the software necessary to apply it. It contains sections on point distribution, point pattern analysis, linear features, network analysis, and spatial autocorrelation analysis. Statistical Analysis with ArcView GIS also features: Examples that show steps of statistical calculations-as well as ways to interpret the results. More than 100 illustrations, including statistical charts, maps, and ArcView screen captures. Helpful end-of-chapter references. Suitable for professionals as well as students of geography, this book is an important tool for anyone involved in the statistical analysis of GIS data.
Book Info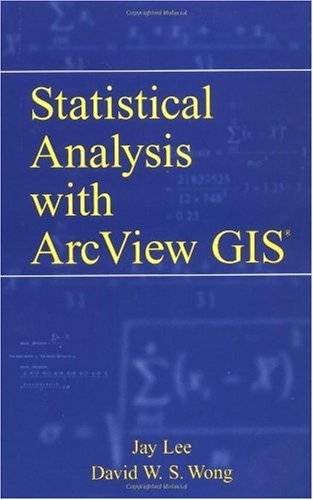 Author(s): Lee J., Wong D.W.S.
Publisher: Wiley, Year: 2001
ISBN: 0471348740,9780471348740
Join Group
Due to copyright or some other issues, the resources you currently see may not be available, for more information, such as purchase, lease, second-hand transfer or other method, you can join our Telegram group, many other GIS tips would be shared here.
Telegram: Join GIS Hub Group
comments powered by

Disqus